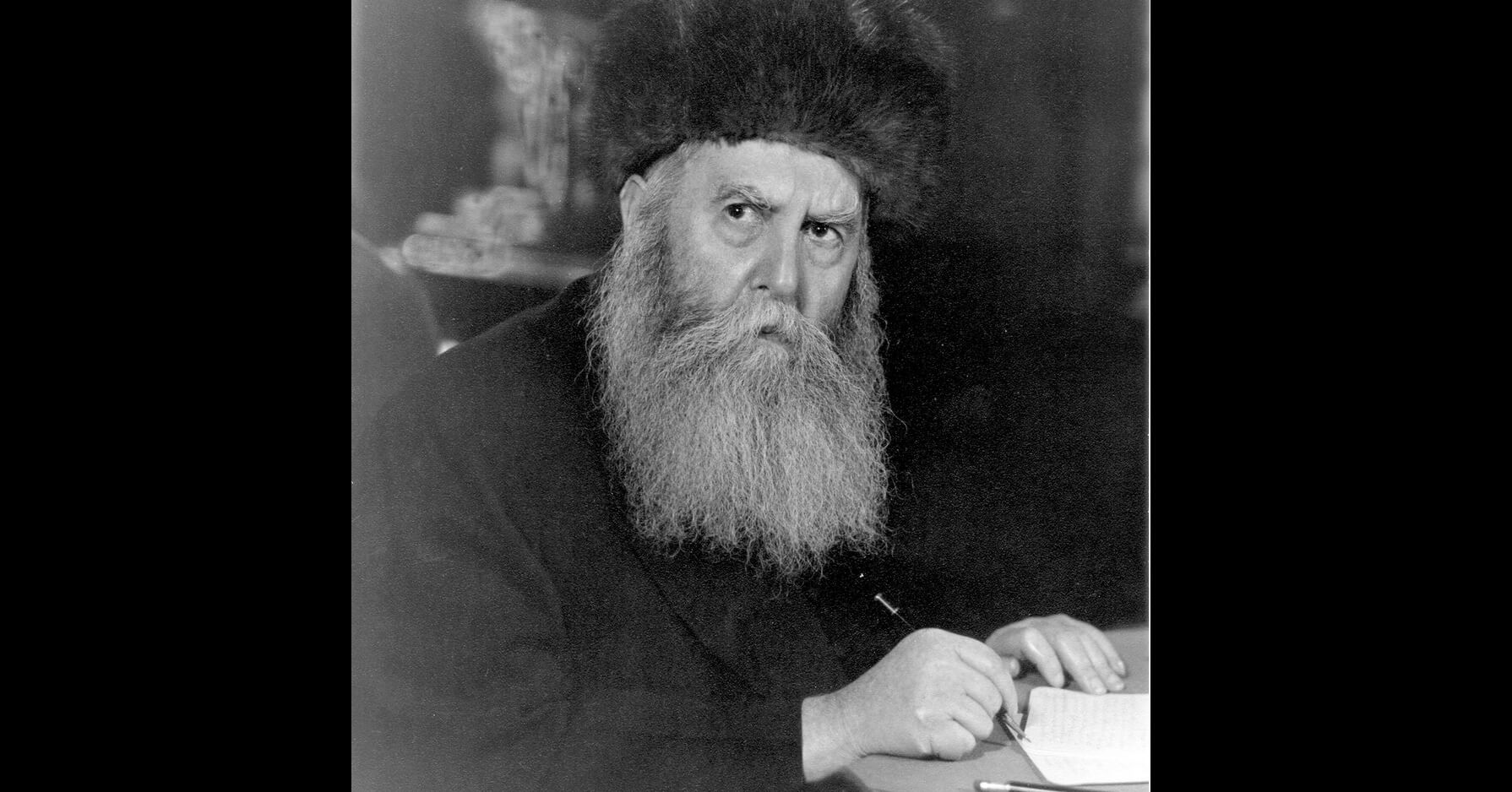 מיט אַ חודש צוריק איז אין באָסטאָן פֿאָרגעקומען דער יערלעכער פֿאַך־קאָנגרעס פֿאַר יודאַיִסטיק (מערסטנס באַקאַנט ווי די "איי־דזשיי־עס"־קאָנפֿערענץ). מיר האָבן שױן געבראַכט אַ באַריכט װעגן רעפֿעראַטן מכּוח דער שילדערונג פֿון גויים אין דער ייִדישער ליטעראַטור און דער ראָלע פֿון ייִדן אין דער געשיכטע. הײַנט װעלן מיר איבערגעבן אַ סך־הכּל פֿון עטלעכע רעדעס װעגן ייִדן במשך פֿון די טעג פֿון רעװאָלוציע און מלחמה, און דער עיקר — װעגן די תּפֿוצות־ישׂראל אין דער נאָך־חורבן־תּקופֿה.
נאָר אײדער מיר קומען צו צו דער צװײטער װעלט־מלחמה, לאָמיך דערמאָנען אַן אינטערעסאַנטן רעפֿעראַט אין שײַכות מיטן ערשטן קריג. צװישן דער גרױסער צאָל אױסגעװאָרצלטע ייִדן איז דעמאָלט אױך געװען דער ליובאַװיטשער רבי, ר׳ יוסף־יצחק שניאורסאָהן (באַקאַנט ווי דער ריי״צ), װאָס האָט געמוזט איבערלאָזן זײַן עדה חסידים אין סאָװעטישן רוסלאַנד און האָט זיך באַזעצט צו ערשט אין ריגע און שפּעטער אין אָטװאָצק לעבן װאַרשע. אַנאַליזירנדיק דעם באַגריף פֿון צמצום בײַ די חב״דנע רביים, האָט דער קבלה־פֿאָרשער הרבֿ אלעזר רובין ציטירט אַ בריװ װאָס דער ריי״צ האָט געשיקט זײַנע חסידים װאָס זײַנען פֿאַרבליבן אין סאָװעטן־פֿאַרבאַנד. אַזױ װי ער האָט ניט געקענט שרײַבן אָפֿענערהײט, האָט ער פֿאַרפֿאַסט אַן איגרת (בריװ) װעגן ענינים פֿון קבלה און עס אַפֿילו ניט אונטערגעחתמעט.
דאָרט שרײַבט ער װעגן דעם צמצום פֿונעם "אור אין־סוף", דער אייביקער ליכט, װאָס איז באַהאַלטן געװאָרן װען דער רבונו־של־עולם האָט באַשאַפֿן די װעלט, אַזױ אַז ס׳איז געװאָרן חושך, פֿינצטער. אלא װאָס, נאָכן צמצום, נאָך דער באַשאַפֿונג פֿון עולם־הזה קען אַ מענטש טאַקע באַנעמען די ליכט. דעם אײבערשטן, כּבֿיכול, האָט זיך געגלוסט ער זאָל האָבן אַ װױנונג אין די אונטערשטע עולמות, אינעם װעלטבאַשאַף, איז דעריבער געװען נײטיק דער צמצום. אין חסידות רופֿט מען דעם ענין אױך ירידה לצורך עליה — אַראָפּנידערן כּדי דערנאָך אױפֿצושטײַגן צו אַ העכערער מדרגה. מיטן "אור" (ליכט) איז דער פֿריִערדיקער ליובאַװיטשער רבי אױסן געװען דעם צדיק, זיך אַלײן. דװקא דאָס פֿינצטערניש, דעם צדיקס אַװעק־זײַן, אַנטפּלעקט אַזױ אַרום די ליכט.
דער ממלא־מקום פֿונעם ריי״צ, ר׳ מנחם־מענדל שניאורסאָהן (רמ״ש), האָט — אין אַ מאמר פֿון אָנהײב 1970ער יאָרן — מסביר געװען װי אַזױ אַ מענטש קען דערגײן צו דער מדרגה פֿון אַנטפּלעקן די ליכט. דער צמצום, װאָס האָט דערמעגלעכט דעם חטא (די זינד), קען באַקומען אַ תּיקון דורך דעם בעל־תּשובֿהס עבֿודה. דעם צמצום רופֿט דער רמ״ש אױך מיטן נאָמען "לבֿנה". אַז די לבֿנה געפֿינט איר תּיקון דורך תּשובֿה־טאָן און איבערבײַטן די שלעכטע געװױנהײטן, װעט זי, אין משיחס צײַטן, שײַנען װי די זון.
בײַם לערנען דאָס דאָזיקע װאָרט חסידות האָט זיך מיר דערמאָנט אַן אינטערעסאַנטער פּאַראַלעל אין דער סאָװעטישער ייִדישער ליטעראַטור. אין 1929 האָט שמואל־ניסן גאָדינער געדרוקט די דערצײלונג "אַ שקלאָװער לבֿנה אױף אַרבאַט". אַרבאַט איז אַ גאַס אין צענטער מאָסקװע; די שקלאָװער לבֿנה שטעלט מיט זיך פֿאָר אַ סימבאָל פֿונעם שטעטלדיקן עבֿר. אין דער דערצײלונג באַשרײַבט גאָדינער טאַקע דעם עפּיזאָד פֿונעם ליובאַװיטשער רבינס אַװעקפֿאָרן פֿון סאָװעטן־פֿאַרבאַנד. דער שקלאָװער ייִד, בעני הורװיץ, װערט אַ ליובאַװיטשער חסיד אויף צו להכעיס דער רעװאָלוציע. מיט עטלעכע יאָר שפּעטער זיצט ער, אַ געגטער און אַ שלאַפֿער, אױף אַרבאַט און האַנדלט מיט פּאַפּיראָסן. נאָר, װי זײַן רבי טענהט: "גשמיות איז בלאָטע און אין רוחניות איז ניט שײך [זײַן] אָפּגעשײדט [פֿונעם רבין]". דער יורד פֿון שקלאָװ טראָגט בײַ זיך אין קעשענע די שקלאָװער לבֿנה (בעת די מאָסקװער שײַנט "אַ מבֿולבֿלע און אַ װאָלװעלע" אַראָפּ אױף די דעכער פֿון שטאָט). זעט אױס אַז אױך בײַם סאָװעטישן שרײַבער קריגט אַ לבֿנה איר תּיקון אַ דאַנק אַ בעל־תּשובֿה װאָס האָט זיך אומגעקערט צו פֿרומקײט דװקא אין די טעג פֿון רעװאָלוציע.
װעגן אַ רעװאָלוציאָנערין װאָס איז געגאַנגען מיטן װעג פֿון די באָלשעװיקעס האָט גערעדט אַן אַנדער רעפֿערענטין, די ניו־יאָרקער היסטאָריקערין עליסאַ בן־פּורת. אין איר רעפֿעראַט האָט זי סקיצירט דעם פֿריִיִקן לעבנסװעג, ביז דער אָקטאָבער־רעװאָלוציע, און די אידעאָלאָגישע שיטה פֿון חיה־מלכּה ליפֿשיץ, מער באַקאַנט מיטן נאָמען מאַריאַ פֿרומקינאַ, אָדער אסתּר פֿרומקין. אין די טעג נאָך דער רעװאָלוציע פֿון 1905 איז ליפֿשיץ־פֿרומקין נאָך געװען אַ פֿירנדיקע בונדיסטקע און האָט אױסגעפּועלט אַז ייִדיש זאָל פֿאַרנעמען אַ װיכטיק אָרט אין דער פּאָליטיק פֿונעם אַלעגעמײנעם ייִדישן אַרבעטער־בונד. אין 1908 איז זי געפֿאָרן קײן טשערנאָװיץ, און װען די אָנטײל־נעמער פֿון דער שפּראַך־קאָנפֿערענץ האָבן באַשלאָסן אַז ייִדיש און העברעיִש זײַנען נאַציאָנאַלע שפּראַכן פֿונעם ייִדישן פֿאָלק, האָט זי מחולק געװען, האַלטנדיק אַז ייִדיש איז די אײן און אײנציקע נאַציאָנאַלע שפּראַך בײַ ייִדן.
יענע האָפֿערדיקע, רעװאָלוציאָנערע פּראָקלאַמאַציע שטײט אין אַ טרױעריקן קאָנטראַסט צו אַ דערקלערונג װאָס דער שרײַבער און היסטאָריקער בער מאַרק האָט אַרױסגעלאָזט אין לאָדזש אין 1946, ניט לאַנג נאָכן חורבן. מאַרק טענהט דאָרט אַז די ייִדישע שפּראַך איז פֿאַרװאַנדלט געװאָרן אין אַ נײַעם מין לשון־קודש. בשעת העברעיִש איז — אין ארץ־ישׂראל — מגולגל געװאָרן אין אַ גערעדטער שפּראַך, װעט ייִדיש שױן באַלד זײַן אױס פֿאָלקשפּראַך, מער ניט לעבן בײַ עמך אין מױל. אלא װאָס, דאָס ייִדישע לשון איז געװאָרן אַ שפּראַך פֿון קדושים און דעריבער הײליק. לױט מאַרקן זײַנען די פּױלישע ייִדן געװען די קרױן פֿונעם ייִדישן פֿאָלק, און בלױז ייִדיש איז טאַקע ראָוי עדות צו זאָגן װעגן די גרױלעכע איבערלעבונגען פֿונעם אױסגעקױלעטן ייִדישן ייִשובֿ אין פּױלן.
װעגן אַ װיסנשאַפֿטלעכער צײַטשריפֿט װאָס בער מאַרק האָט אַרױסגעגעבן אין דער נאָכמלחמהדיקער װאַרשע, "בלעטער פֿאַר געשיכטע", האָט גערעדט די היסטאָריקערין נאַטאַליאַ אַלעקשון. די הקדמה צו אײנעם פֿון די ערשטע נומערן אָטעמט מיטן זעלביקן גײַסט װי מאַרקס דערקלערונג אַז ייִדיש איז דאָס נײַע לשון־קודש. דאָרט דריקן די אַרױסגעבער אױס זײער אָפּשײַ פֿאַרן ממשיך־זײַן די אַרבעט פֿון ייִדישע היסטאָריקער אין פּױלן. זײ נעמען זיך צו דער דאָזיקער אַרבעט מיט ציטער און גרױס ייִראת־הכּבֿוד װי אַ סופֿר װאָס גײט זיך טובֿלען אין מיקווה פֿאַרן אױסכּתיבֿהן אותיות פֿון דער הײליקער תּורה.
אױך אױף יענער זײַט אוקינוס האָט דער המשך פֿון פּױלישן ייִדנטום קודם־כּל געהאַט אַ פּנים פֿון אָפּריכטן אַן אַזכּרה. די גרױסע בוענאָס־אײַרעסער ביכער־סעריע א״נ "דאָס פּױלישע ייִדנטום" האָט זיך אָנגעהױבן אין 1946 מיטן באַנד "מלכּה אָװשיאַני דערצײלט", אױפֿגעשריבן און אַרױסגעגעבן פֿון מאַרק טורקאָװ. דער ליטעראַטור־פֿאָרשער סאַם ספּינער האָט אָנגעװיזן אױפֿן פֿאַקט אַז דאָס בוך הײבט ניט נאָר אָן אַ לאַנגע און װיכטיקע סעריע אין דער װעלט פֿון ייִדישן בוך נאָכן חורבן, נאָר ס׳איז אױך אײנע פֿון די ערשטע חורבן־זכרונות געדרוקטע אין בוך־פֿאָרמאַט.
באַלד נאָך דער מלחמה האָט מען אין בוענאָס־אײַרעס אױך אַרױסגעגעבן אַן אױסגאַבע פֿון י. ל. פּרצעס געזאַמלטע װערק. לױט בער מאַרקס אָפּשאַץ איז פּרצעס סימן־מובֿהק זײַן פּױלישקײט, און צװישן די דרײַ גרױסע ייִדישע קלאַסיקער איז ער טאַקע געװען דער שליח פֿון פּױלישן ייִדנטום. די דאָקטאָראַנטין בײַם האַרװאַרד־אוניװערסיטעט, ראַשעל גראָסמאַן, פֿאָרשט װעגן פֿאַרשײדענע אױסגאַבעס פֿון פּרצעס װערק אינעם קאָנטעקסט פֿון דער ייִדישער ליטעראַטור נאָכן חורבן, און ספּעציעל אין פֿאָלקס־פּױלן.
1968 איז געװען דאָס יאָר פֿונעם לעצטן יציאת־פּױלן װען די מערסטע פּױלישע ייִדן, װאָס זײַנען דעמאָלט נאָך געװען אין לאַנד, זײַנען, בעל־כּרחו, אַרױסגעפֿאָרן — על־פּי רובֿ ניט דװקא אין מדינת־ישׂראל אַרײַן, כאָטש מע האָט זײ חושד געװען אין ציוניזם, נאָר אין די סקאַנדינאַװישע לענדער, מיטן אױסנאַם פֿון נאָרװעגיע. דער פֿאָרשער פֿון נאָרװעגישן ייִדנטום און דער רבֿ אין אָסלאָ, טײַסאָן צבֿי הערבערגער, האָט אין זײַן רעפֿעראַט באַהאַנדלט די דאָזיקע פּרשה און דערקלערט אַז די דעה־זאָגער בײַ נאָרװעגער ייִדן האָבן ניט געװאָלט נעמען אױף זיך די אַחריות פֿון אונטערשטיצן יענע פּליטים און האָבן געעצהט אַז ס׳איז בילכער זײ ניט אַרײַנלאָזן אין לאַנד. אַ גרױסע צאָל נאָרװעגישע ייִדן איז געװען פֿון יעקישן (דײַטשישן) אָפּשטאַם, און אַ העלפֿט פֿונעם רעלאַטיװ קלײנעם קיבוץ איז אױסגעהרגעט געװאָרן אין אױשװיץ. מיט דער דעה פֿון ייִדישע סטודענטן אין נאָרװעגיע, װאָס האָבן פּראָטעסטירט אַקעגן יענעם באַשלוס, האָט מען זיך דעמאָלט װײניק װאָס גערעכנט.
לאָמיר זיך אָבער אומקערן צום ענין יזכּור. די היסטאָריקערין עליִאַנאַ אַדלער האַלט בײַם פֿאָרשן יזכּור־ביכער און האָט בײַם קאָנגרעס אַרומגערעדט די מאַפּעס װאָס מע געפֿינט אין אַ סך אַזעלכע אָנדענקביכער. מערסטנס זײַנען דאָס פּשוט קאָפּיעס פֿון אַן אַטלאַס, נאָר די צונױפֿשטעלער האָבן פֿאַרצײכנט אױף דער מאַפּע דאָס אָרט פֿון פֿאַרשײדענע פּלעצער און בנינים מיט אַ שײַכות צום ייִדישן לעבן. אױף דער יזכּור־מאַפּע זײַנען אָפֿט מאָל דאָ עטלעכע צײַטפּעריאָדן בײַנאַנד אױף אײן פֿלאַך, אַזױ אַז מע געפֿינט די צױם פֿון געטאָ לעבן שפּורן פֿון פֿאַרמלחמהדיקן לעבן װי בתּי־מדרשים און ייִדישע קראָמען.
נאָכן חורבן האָבן ייִדן אָבער ניט נאָר געזאָרגט פֿאַרן אָנדענק נאָך די אומגעקומענע, נאָר אױך געפֿאָדערט אַ גערעכטע שטראָף פֿאַר די מערדער און ניט זעלטן געװאָלט זיך נוקם זײַן אין זײ. דיאַנאַ דומיטרו (דזשאָרדזשטאַונער אוניװערסיטעט) האָט אָפּגעגעבן אַ דין־וחשבון װעגן װי אַזױ ייִדן אין רומעניע האָבן געקעמפֿט פֿאַר יושר און אַרײַנגעלײגט אַ סך כּוחות אינעם אױסגעפֿינען ייִדן־מערדער און זײ שטעלן פֿאַרן געריכט. װאָס שײך דער פֿראַגע פֿון באַשטראָפֿונג האָבן זײ, לױט דומיטרו, ניט געהאַט קײן שום רחמנות אױף די פֿאַרברעכער.
מיט דער גרעסטער שטרענגקײט האָט מען זיך אָפֿט באַצױגן דװקא צו די אײגענע, צו ייִדישע "קאָלאַבאָראַנטן", אױף װיפֿל דער טערמין איז בכלל שײך אַז מע רעדט װעגן ייִדן אין די טעג פֿונעם חורבן. דעם באַקאַנטן און אָנגעװײטיקטן ענין פֿון מיכאל װײכערט האָט אַרומגערעדט דער יוריסט און היסטאָריקער גבֿריאל פֿינדער. װײכערט איז געשטאַנען פֿאַר אַ געריכט מער װי אײן מאָל דעריבער װאָס בעת דער היטלער־אָקופּאַציע האָט ער אָנגעפֿירט מיט דער ייִדישער סאָציאַלער אַלײנהילף (ייִסאָ). דער ייִדישער אונטערגרונט האָט געהאַלטן אַז די ייִסאָ איז בלױז אַן אינסטרומענט אין דער האַנט פֿונעם אָקופּאַנט און פֿאַרמישפּט װײכערטן צו טױטשטראָף צוליב קאָלאַבאָראַציע. פֿון דעסט װעגן האָט ער איבערגעלעבט די מלחמה. אין 1946 האָט מען אים װידער באַשולדיקט אין קאָלאַבאָראַציע, נאָר דאָס פּױלישע געריכט האָט אים באַפֿרײַט. אָבער מיט דרײַ יאָר שפּעטער האָט אַ ייִדיש געזעלשאַפֿטלעך געריכט באַהאַנדלט דעם ענין פֿונסנײַ און דערגאַנגען צום אױספֿיר אַז ער איז יאָ שולדיק. כאָטש לכאורה איז דער פּועל־יוצא פֿון אַזאַ אורטײל ניט געװען אַזױ געפֿערלעך װי בײַ אַ מלוכישן געריכט, האָט אַזאַ מין קין־צײכן פֿאָרט געהײסן אַז מע מײַדט אױס אַזאַ ייִדן, ס׳קומט אים אָן שװער צו קריגן אַרבעט בײַ ייִדן, אאַז״װ
לאָמיך אָבער אױסלאָזן דעם באַריכט בכי־טובֿ, מיט אַ גוטער בשׂורה. בײַם באָסטאָנער צוזאַמענפֿאָר האָבן די לינגװיסטן אײַזיק בלימאַן און חיה נאָװע פֿאָרגעשטעלט דעם קאָרפּוס פֿון דער ייִדישער שמועסשפּראַך אין אײראָפּע (קישאָ), אַ פּראָיעקט װאָס װעט זיכער צו נוץ קומען ניט נאָר פֿאָרשער, נאָר אױך שפּראַכלערער, טאָמער װילן זײ װײַזן דוגמאָות פֿון גערעדטן ייִדיש. פּינקטלעך גערעדט, געפֿינט מען אינעם קאָרפּוס ניט קײן בײַשפּילן פֿון דער ייִדישער שמועסשפּראַך אין אײראָפּע ממש, נאָר דעם גערעדטן לשון בײַ ייִדן פֿון דער שארית־הפּליטה װאָס זײַנען אַרױסגעפֿאָרן פֿון אײראָפּע, ס׳רובֿ פֿון זיי — מיט אַ סך יאָרן צוריק. די מחברים פֿונעם קאָרפּוס האָבן ניט נאָר צונױפֿגעקליבן אינטערװיוען, נאָר אױך צוגעגעבן אונטערקעפּלעך אױף ייִדיש.
עד־כּאַן זײַנען דאָס נאָר געצײלטע פֿון דער גרויסער צאָל לעקציעס און שמועסן װאָס זײַנען פֿאָרגעקומען אין באָסטאָן אין משך פֿון קאַרגע דרײַ טעג. אין עלף חדשים אַרום קומט מען זיך, מירצעשעם, װידער צונױף אױף זיך צו טיילן מיט די נײַסטע פֿאָרשונגען, אױך װעגן ייִדיש. דאָס מאָל װעט מען זיך טרעפֿן אױפֿן אַמעריקאַנער מערבֿ־ברעג, אין סאַן־פֿראַנציסקאָ.
The post An important letter from the Lubavitcher Rebbe Yosef-Yitschok Schneerson  appeared first on The Forward.