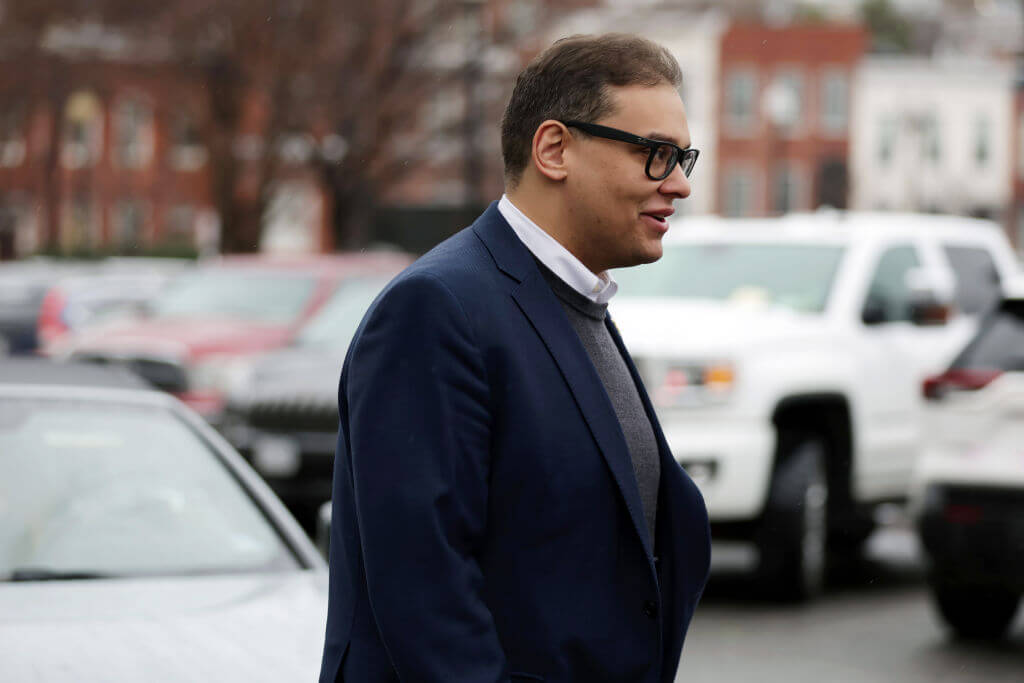 In a newly surfaced video, during his first run for Congress in 2020, Rep. George Santos said he is "not trying to claim Jewish heritage" and added new meaning to his later claim to be an American Jew. 
In a January 2020 conversation on a cable TV show he hosted at the time, titled "Talking GOP," Santos told its co-host Gabriel Montalvo that his maternal grandfather, Paulo Horta Devolder, grew up Jewish but converted to Catholicism before the Holocaust and raised his children Catholic. The Forward first reported that his grandparents were both born in Brazil before the Nazis came to power. "I'm Catholic," Santos said on the show, "but that's pretty much a little history of my family into Judaism.
He then added: "I believe we are all Jewish, at the end – because Jesus Christ is Jewish. And if you believe in Jesus, and we're all brothers in Christ, I mean." 
The clip was first posted by Patriot Takes, an anonymously run Twitter account whose stated mission is to "research, monitor, and expose the extremism and radicalization of the far right," but it didn't provide any additional context to it.
Called out for hypocrisy
Meanwhile, a  Democratic House member accused Rep. George Santos from New York of invoking the antisemitic trope of Jewish money during a spat on Twitter Thursday night. 
Commenting on the House vote earlier in the day to remove Rep. Ilhan Omar from the House Foreign Affairs Committee, Santos took a swipe at Rep. Ritchie Torres, a fellow New Yorker who is leading the call for his ouster, for voting against the GOP resolution. "Regrettably Ritchie Torres who calls himself pro-Israel voted to keep an antisemite in the foreign affairs committee," Santos wrote on Twitter. "So much for 'supporting' Israel & the Jewish community, I guess it's all lip service when you come to #NY03 & fundraise from my Jewish constituents." 
All Democrats voted against the measure, accusing the Republican of hypocrisy. 
"You do realize that mentioning your Jewish constituents in terms of fundraising perpetuates the same antisemitic trope that you have attributed to Ilhan Omar?" Torres replied to Santos. 
Torres, has been taken to task by the left and faced social media harassment for his strong defense of Israel in recent years. He touted his pro-Israel credentials as a theme of his congressional run in 2020. 
"Unlike the fictional George Zabrovsky, who invented his Jew-ish identity and his ancestral ties to the Holocaust, I have a real life record of combating antisemitism and defending the American-Israeli relationship," Torres wrote, referring to Santos lying about having Jewish grandparents who fled persecution during World War II and calling himself a "proud American Jew" during the campaign. Torres also pointed to a recent poll that showed 94% of Jewish voters in New York's 3rd Congressional District want to see Santos resign. 
Santos spoke on the House floor Thursday afternoon, saying that booting Omar off the prestigious panel "sends a strong message that we support Israel and the Jewish community." 
Santos: I rise to congratulate my colleagues on voting to remove representative Omar from the foreign affairs committee. The passage of H.R. 76 sends a strong message that we support Israel and the Jewish community.. pic.twitter.com/vuqqcaYL64

— Acyn (@Acyn) February 2, 2023
He added: "I urge the 118th Congress to now stand together, proudly upholding every single American, no matter race, pedigree, religion nor creed, as any less American than their neighbor ― that Jewish Americans are patriotic Americans and that we all have a role fighting bigotry and antisemitism in our country." 
The remarks were ridiculed online, pointing to Santos's fabrications about his Jewish heritage. 
Santos has admitted he forged his professional biography and lied about his education and work experience, but he hasn't come clean on his false claim about having Jewish grandparents. Santos publicly raised his Jewish ancestry and called himself a "Latino Jew" in last year's campaign. In more recent interviews he suggested that he had joked about being "Jew-ish."
A spokesperson for Santos didn't respond to a request for comment about his attacks on Torres's Israel's record. 
The post George Santos suggested all people are Jewish 'because Jesus Christ is Jewish,' in newly surfaced video appeared first on The Forward.