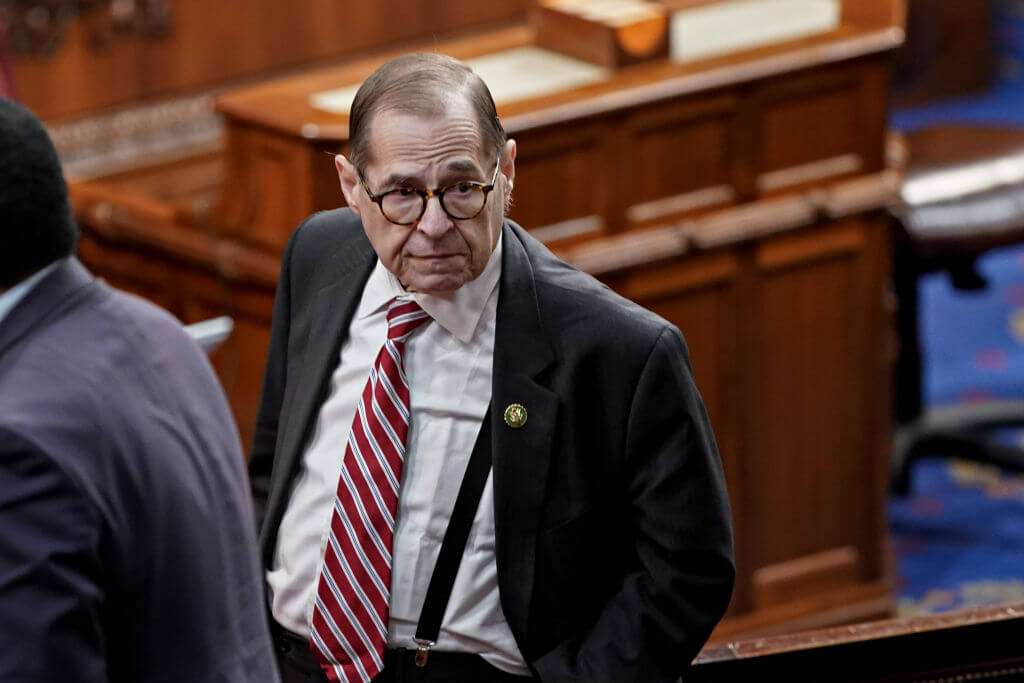 Rep. Jerry Nadler from New York, the dean of the informal Jewish Caucus, warned on Sunday that the U.S.-Israel alliance "will be endangered" if the new Israeli government passes legislation that will cast aside democratic principles.
More than 100,000 people across Israel have rallied against Prime Minister Benjamin Netanyahu's government in recent weeks amid growing anger over a plan to curb the power of the high court and other democratic institutions. American Jews, in several major cities, have organized similar though smaller protests. 
Speaking at the annual Jewish Community Relations Council of New York's congressional breakfast, Nadler said several policies of the governing coalition "are very distressing" and "I know the Biden administration is concerned as well." In addition to the judicial overhaul plan, he mentioned fears that the government will turn its back on religious and other minorities and sideline Jews who challenge the Orthodox religious establishment. Nadler, the ranking member of the House Judiciary Committee, also expressed those concerns in an op-ed for Haaretz, an Israeli daily newspaper.
"We should continue to engage at all levels and continue to make clear that democracy here in the United States and Israel is something that we will fight for," he said, describing his love for Israel as "an essential element to my identity."
Netanyahu defended the proposed legal shake-up, but said last week that he is ready to "hear counter offers" to his contentious plan.
House Minority Leader Hakeem Jeffries, who also spoke at the Sunday event, discussed in detail his support for Israel but indirectly made a remark about the current situation. "It's important to recognize Israel as a place that is – and always shall be – a Jewish and democratic state," he said. 
Jeffries visited Israel five times in the last decade and often called Jerusalem New York City's sixth borough. He is expected to travel to Israel this spring in celebration of the 75th anniversary of the founding of the modern Israeli state. 
Members of the New York delegation who attended included Reps. Adriano Espaillat, Gregory Meeks, Grace Meng, Yvette Clarke, and Republican freshman Mike Lawler. 
Jeffries said that "every single member who's here" is committed to ensuring that security assistance for Israel "is maintained without conditions," and that the U.S. preserves Israel's qualitative military edge. "That is our commitment," he said. "It's rock solid and we will never waver from it." 
Senate Majority Leader Chuck Schumer said at the event that turning Israel into a partisan issue "is very detrimental to Israel."
The post U.S.-Israel alliance 'will be endangered if democratic principles are not adhered to,' Rep. Nadler warns appeared first on The Forward.