Doug Emhoff, the second gentleman of the United States, invited a Holocaust survivor to attend President Joe Biden's second State of the Union address Tuesday evening following Emhoff's recent journey to Poland and Germany. 
Ruth Cohen, a survivor of the Auschwitz-Birkenau death camp and a resident of Rockville, MD, will be joined by other guests invited by first lady Jill Biden and be seated in the viewing box. 
The White House said each of the guests were picked because "they personify issues or themes to be addressed by the president in his speech, or they embody the Biden-Harris administration's policies at work for the American people."
Cohen, 92, and her family were forced from their home in Mukačevo, Czechoslovakia in 1944 and she was sent with her sister to Auschwitz-Birkenau and other concentration camps, while their mother, brother and cousins were all killed in the gas chambers. They were liberated by U.S. forces in 1945 and immigrated to the U.S. three years later. Cohen first settled in New York and in recent years moved to the Washington, D.C. area to volunteer at the United States Holocaust Memorial Museum.
Emhoff and his wife Vice President Kamala Harris first met Cohen in 2022 on International Holocaust Remembrance Day. The White House said at the time that the couple met with Cohen to hear her story – to "bear witness to the atrocities of the Holocaust" and to discuss the Biden administration's commitment to "combating antisemitism and hatred wherever it exists."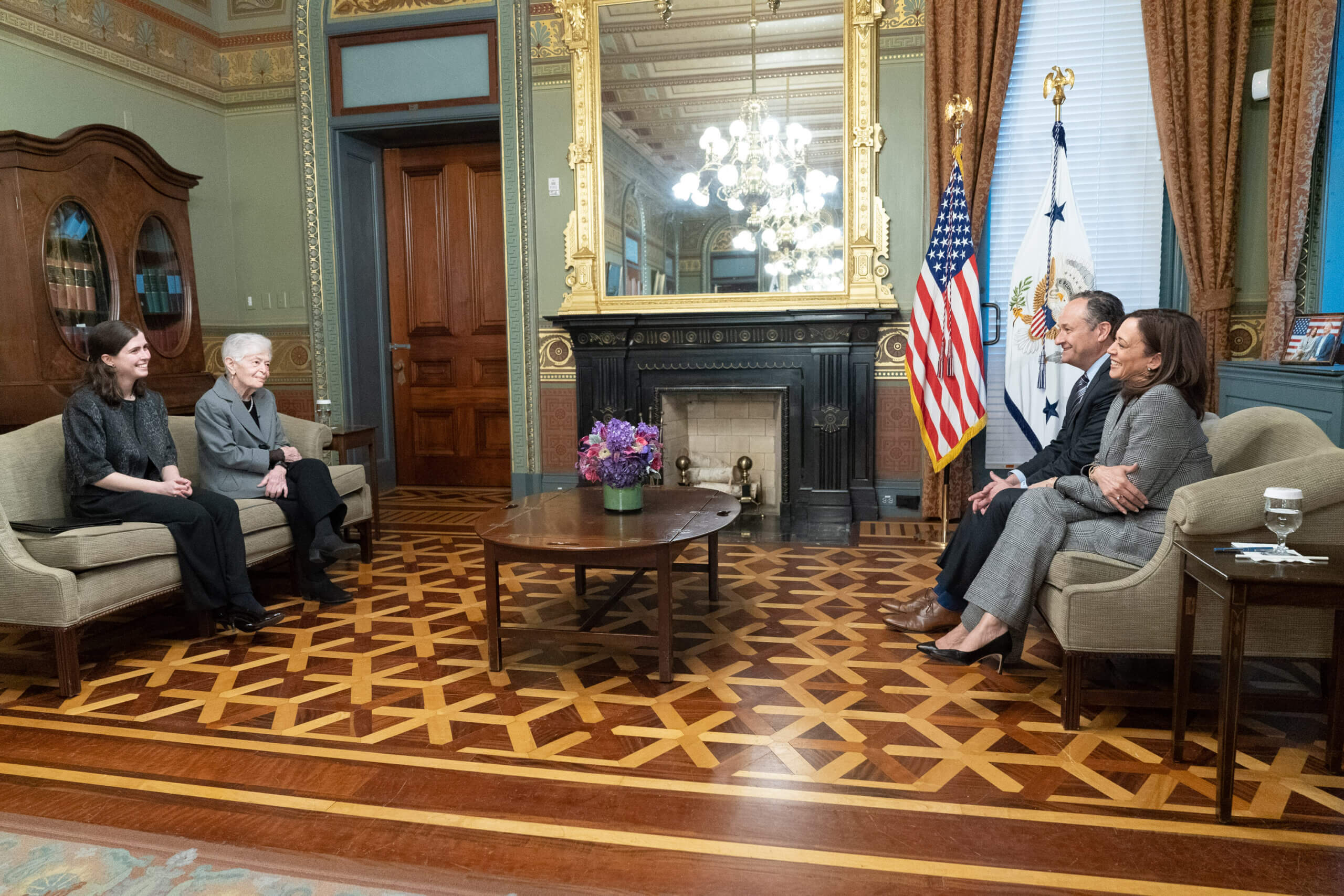 Vice President Kamala Harris and second gentleman Douglas Emhoff meet with Holocaust survivor Ruth Cohen to mark International Holocaust Remembrance Day on Jan. 27, 2022. Photo by The White House
In a recent roundtable with Jewish leaders to discuss ways to tackle the rise of antisemitism, Emhoff said seeing Cohen's "continued courage and strength impacted me." 
Cohen marked this year's Holocaust Remembrance Day in Cairo, Egypt at a commemoration event, hosted by the U.S. and German embassies. She was also the keynote speaker at the Gulf's second annual International Holocaust Remembrance Day, which was hosted by Zayed University in Abu Dhabi.
Emhoff, the first Jewish spouse of a president or vice president, returned last week from an emotional trip to Poland and Germany, in which he toured sites made infamous by Nazi atrocities. "Given the rise in antisemitism, it is important for me — and for all of us — to put a spotlight on the history of Jews in Europe," Emhoff told the Forward during the trip. 
On Monday, Emhoff took part in the first meeting of the White House's interagency task force to develop a national strategy to combat antisemitism co-chaired by Susan Rice, Biden's domestic policy advisor, and Liz Sherwood-Randall, his assistant to for homeland security. The White House said Emhoff shared learnings from his recent journey and "underscored the need for a coordinated, whole-of-government approach to tackle antisemitism and all forms of hatred in the U.S." 
The second gentleman will headline a high level event at the United Nations on Thursday to draw attention to global antisemitism. He will be joined by Ambassador Deborah E. Lipstadt, the State Department's special envoy to monitor and combat antisemitism. 
For the millions of victims of the Holocaust, and for the survivors like Ruth Cohen, we must commit to carry forth their lived experiences and give meaning to that timeless pledge: "never again." pic.twitter.com/aKtF4Jrfcs

— Vice President Kamala Harris (@VP) February 2, 2022
The post Auschwitz survivor among the guests the White House invited to Biden's State of the Union address appeared first on The Forward.