CHISINAU, Moldova (JTA) — Perched on a sofa somewhere in Israel, fugitive Moldovan-Jewish businessman-turned-politician Ilan Shor is seen in a video from last month speaking to his supporters back home. His message is, by his standards, relatively mild.
"Maia, you really are Hitler," he says, addressing Moldova's pro-European president, Maia Sandu. "Whether you like it or not, I will make sure my people live well."
With backing from Russia, Ilan Shor has become a leading figure in Moscow's campaign to destabilize Moldova, a tiny impoverished country wedged between Ukraine and Romania. Facing charges — and since last week, a conviction in absentia — that he stole $1 billion dollars from the Moldovan banking system in 2014, he has been sheltering in Israel.
From there, the opposition leader who is still a member of Moldova's parliament has been denouncing his charges as politically motivated, organizing regular protests in his native country and spreading disinformation that critics say is designed to undermine Moldova's efforts to align itself closer with the European Union and away from Russia. Last June, Moldova — which has repeatedly condemned the Russian war in Ukraine — was granted candidate status to the European Union, together with Ukraine. (A previous government collapsed in February under the weight of economic and political stress amplified by Russia's invasion.)
Whether a fugitive from justice or a target of political retaliation, the presence of the pro-Russian oligarch has become frequently awkward for Israel, which has in recent years become more willing to extradite its citizens facing charges abroad. Shor is an Israeli citizen, and yet he has been sanctioned by the United States in October and the United Kingdom in December. The Israeli foreign ministry declined to comment on any issues related to Shor's activities, with officials saying that it was a legal issue.
"We do not want the territory of other countries to be used as a launching pad for hybrid attacks against us and for attempts to bring violence here," said one senior official in Chisinau, Moldova's capital, when asked how they felt about Shor's presence in Israel.
Last week, a court in Chisinau sentenced Shor to 15 years in prison for his involvement in the heist and ordered the confiscation of $290 million of his assets. Shor claims that the verdict was "revenge for the protest movement" and promised that it would be "annulled the day after the change in regime."
Before the recent sentencing, Nicu Popescu, Moldova's foreign minister, told the Jewish Telegraphic Agency from his office in downtown Chisinau that Moldova had established information about "clear coordination between Shor and Russia in their joint attempts to destabilize Moldova."
"The reality is that Shor is trying to bring violence onto the streets," Popescu added. "He is operating from Israeli territory and that is problematic. This situation related to Shor is a factor that is problematic for our country, its stability, and for the stability of the region. The scale of the attempts to destabilize Moldova through violent means have risen recently and that is something that matters a lot."
Ahead of a protest in downtown Chisinau last month, where 54 people were arrested, Moldova police said that they had detained seven people who had been promised up to $10,000 each to stir violence during the protests. Media here reported that the Shor Party, which Shor created in 2015, has been bribing people to attend protests and busing them in from towns across Moldova.
JTA requested an interview with a representative of Shor's political party but received no response.
Ilan Shor was born in Israel to Moldovan Jewish parents who moved to Israel in the late 1970s, then moved back to Chisinau in 1990. He inherited from his father a successful chain of Moldovan duty-free stores and built a network of businesses across the country. He entered politics in 2015, in a move widely seen as an effort to try and protect himself from the legal fall-out of the banking scandal and fled to Israel in 2019.
Intelligence assessments in both Moldova and the United States have determined that Russia had been seeking to use such protests as a platform to topple Moldova's government. Shor regularly addresses the protests on videos from his base in Israel.
Ukrainian and Western officials say Shor has links with the Russian Federal Security Service, or FSB, which has been channeling money into Moldova as part of its attempts to support pro-Russian voices, The Washington Post reported. Shor, who is married to a Russian pop star, is allegedly known to the FSB as "the Young One" (he is 36).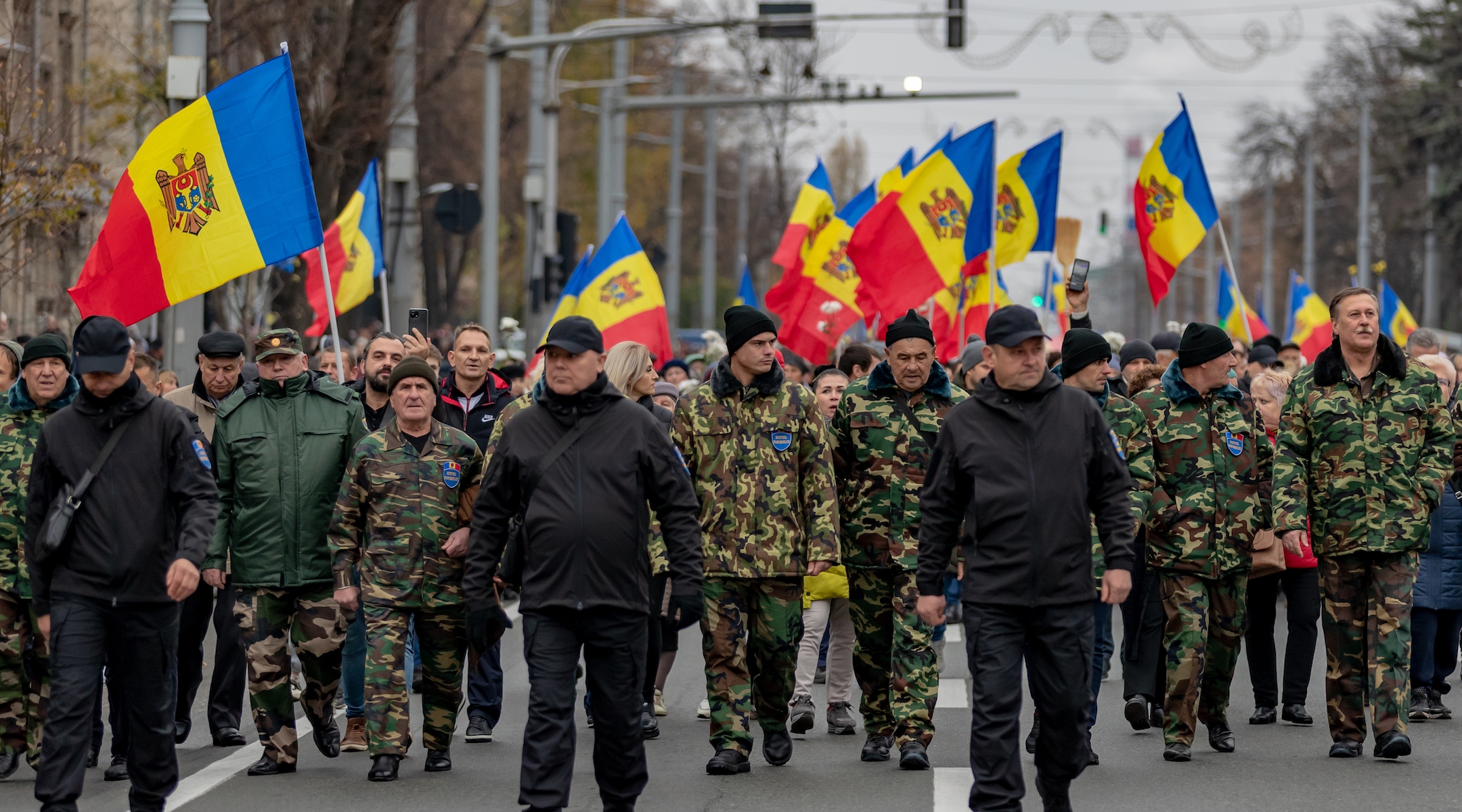 Demonstrators in Chisinau protest the Moldovan government, Nov 13, 2022. Shor has been involved in organizing ongoing protests. (Vudi Xhymshiti/Anadolu Agency via Getty Images)
Image by
"Moldova is facing hybrid threats," Popescu said. "We take our security very seriously and our institutions are doing everything they can to keep peace and calm, but it is totally unacceptable that people like Shor try to bring violence onto the streets of Moldova."
Moldova has submitted an extradition request to Israeli authorities for Ilan Shor's role in the banking scandal but has received no response, according to senior officials at the Moldovan foreign ministry. Some officials in Chisinau say that Israel may have been waiting for the completion of Shor's legal appeal process, and that there may now be movement following his sentencing in absentia. Shor is also currently under investigation as a suspect in a range of other cases related to his activities during and since the fraud scandal.
"He is operating from Israeli territory and that is problematic," Popescu said. "Our institutions are and will be taking the security of our citizens very seriously and knowing how careful Israel is about its own security, I am sure that Israel can have a lot of sympathy."
"Shor is the most important political ally of Russia in Moldova," said Valeriu Pasha, the director of the Moldovan thinktank Watchdog.MD. "The Shor Party works as a classic organized crime group, and it looks like he is ready to be part of some of the tough scenarios of Russian influence in Moldova."
"He has received almost total control of Russian-affiliated media which is broadcasting in Moldova," added Pasha. Shor owns a number of channels, while outlets like Russia's Perviy Kanal, or Channel One, are rebroadcast in Moldova, where Romanian is the state language and Russian is spoken by Russians, Ukrainians and other ethnic minorities. Pasha said that Shor was playing a "critical role" in spreading pro-Russian narratives about the war in Ukraine and the Moldovan government.
Officials in Chisinau said that they were concerned that Shor could flee to Russia if his seven-and-half year sentence is upheld by Moldova's Appellate Court. "We would want to see him extradited now," said Veronica Dragalin, Moldova's chief anti-corruption prosecutor, "because we do not want that to happen."
Dragalin dismisses allegations by Shor and his allies that the case against him is politically motivated.
"This tactic of trying to claim that you are being politically persecuted is something that happens quite often in these situations in Moldova," said Dragalin. Bringing Shor to justice in Moldova "would have a significant ripple-down effect in terms of deterring crime," by underlining that there are consequences for the "rich and powerful" when they break the law, she said.
Some among Moldova's approximately 15,000 Jews — who have spent the past year dealing with an influx of Jewish refugees from Ukraine — worry that increasing anger towards Shor, who has a number of close Jewish associates in the country, might blow back onto the community.
"Speaking about the consequences of everything that is going on," said Aliona Grossu, the director of the Jewish Community of Moldova, "when it is linked to some political figures, of course there is a spill-over effect on the community."
This, she worried, had caused an uptick in antisemitism by causing the proliferation of stereotypes that most Jews in Moldova were either "illegally wealthy" or were "connected" to Shor.
Shor is not particularly close to the Jewish community in Moldova. Grossu emphasized that despite her having worked for the community for 13 years, she had never met him, and that he had never had any involvement with the community — beyond paying his membership dues.
There are pockets of support for Shor among the local Jewish population, which is overwhelmingly Russian-speaking. On a recent day in Orhei, a sleepy town in central Moldova that Shor was once mayor of and remains its member in parliament, the leader of the tiny local Jewish community welcomed a set of Jewish visitors from Chisinau. Iziaslav Mundrean, standing outside the town's Jewish museum, said that Shor was "a good man."
Shor, he added, had paid for the construction of a new driveway for the collapsing Jewish cemetery and a new gate to be installed. He had also funded windows for an old synagogue that has since been transformed into the Jewish museum for the town.
Two other Jewish men from Chisinau standing nearby raised their eyebrows at Mundrean's comments and launched into a debate about whether there was anything to respect about Shor.
Shor simply "had not been given the opportunity," Mundrean continued, adding that the widespread dislike towards him across Moldova was because "people by-and-large do not like rich Jews."
This article originally appeared on JTA.org.
The post Moldovan oligarch, wanted at home in a billion-dollar scandal, backs Russian interests from a haven in Israel appeared first on The Forward.